How to make plumper lips?
August 20, 2019
Bigger and plumper lips have always been a symbol of sexiness. Unfortunately, not all of us were born with perfect lips. If you are in love with plump lips, there are different ways to get it. You can either take surgery or get plump lips naturally. Let's get some pointers through this article.
There is no doubt that many women all around the world are seeking plump lips treatment. Everyone wants to appear the most beautiful and attractive. We fully understand this kind of demand. That is the reason why have aggregated all the effective methods in this article so that you can easily make a decision. The article will give information about how to get bigger lips permanently without surgery and how to get bigger lips permanently with surgery. They are two major methods that most of us think of when it comes to getting plumper lips. Besides, if you want plump lips immediately, for instance, before an event, there are several makeup tips.

How to make lips plump naturally?
The beauty industry is developing dramatically, making it easier for all of us to get access to beauty products and methods. That is why plumper lips have never been easier.
Is it possible to get follow plump lips trend with a few ingredients in your kitchen? The answer is "Yes". You definitely can achieve that goal if you are patient.   So how to get bigger lips permanently without surgery? There are different ways to combine plumping recipes. However, depending on each person, the effects will be not the same because our skin does not react to different treatments in the same way. If you have time, you should tweak these following recipes to find what is most suitable for you.

Base
The base, whether in the solid form or liquid form, all help to carry oil and nourish your lips. There many types of base that you can easily find, including vitamin E, olive oil, almond oil, vaseline, cocoa butter, shea butter, beeswax and coconut butter. Besides these normal bases, your lip balms also can be used as the base to mix with the active ingredients.

Some common active ingredients
There are different natural ingredients that you should add to the list of plumper recipe. These ingredients when reacting with each other are able to increase blood flow to your lips, which is how to get plump lips naturally and permanently. Before using it, it is necessary to make sure that you are not allergic to these ingredients first because you always have to put your health at the top priority. Here are the most effective oil and powder which will help to get desired lips if you do not want to undergo lip plumper plastic surgery.
– Ginger oil and powder
– Anise oil
– Clove oil
– Cinnamon oil and powder
– Black pepper
– Cayenne pepper powder
– Peppermint essential oil
– Wintergreen essential oil
Here is the best homemade recipe for plumper lips we get after testing some different recipes.

Potent plumper
To make potent plumper, you need will need 
– A mixing bowl: this bowl should be heat resistant and have the right size so that you can put into a small pot
– ½ tsp cinnamon oil (cinnamon powder is still fine)
– ½ tsp clove oil
– ½ tsp cayenne pepper powder (do not choose the one that is too spicy)
– A lip balm
– A small pot
How to do?
– Fill the small pot halfway with water and place it on the stove till you witness that it simmers
– Place the mixing bowl in the pot
– Twist your lip balm up and add it in the bowl ( don't throw the tube away)
– Stir the melted balm
– Add cayenne powder/oil and stir
– Add clove and cinnamon oil and stir till all the ingredients are mixed 
– Pour the mixture into the empty lip balm tube (if your lip balm tube is flexible, you cannot reuse it, so it is better to have an empty glass lip balm jar in order to reuse it over and over)
– Let it cool (if you cannot wait for it to cool, you can put in in the fridge)

You can use the potent lip plumper as long as it is hard. This is how to plump lips naturally overnight. However, when using this mixture, your lips can be a little bit dry, which is the effect of the cayenne powder. Don't worry. Using a lip balm can help to improve this situation. Another note is that you can adjust the ingredients. If you find that ½ tsp of cayenne powder is too much and the mixture is too spicy, you can reduce it a little bit till you find it is suitable for you.
Another choice to get plumper lips at home is to use lip plumper devices. There is no need to prepare things and make plumper mixture at home. Using plumper devices may take times and you need to be patient. However, the result is amazing. Lip plumper devices can help to add moisture, fullness and definition to your lips. There are many types of lip plumper available in the market. These devices make your lips plumper instantly and they are the most suitable who just seek for an immediate result. You just have to spend several minutes before going out using a lip plumper device and you will appear with attractive lips.

Facial yoga
Another effective way to get plumper lips naturally is facial yoga. Have you ever wondered how to make lips plumper without surgery? If yes, here are some useful guides for you.
While yoga often helps to shrink different areas of your body, facial yoga, on the other hand, does not work so. In fact, it is the best way to get bigger lips without surgery. The great thing here is that there is no need to take part in yoga class. You can do the lip yoga in your car, at your home and while cooking. With specific exercises, you can get the desired lips without undergoing lips filler cosmetic surgery. 

What to prepare? To prepare for this exercise, all you need is a glass of water and moisturizing lip balm. Too simple, right?
Here is how to make plumper lips at home with a glass of water and a lip balm:
– Step 1: Before taking the facial exercise, remember to drink a glass of water and moisturize your lips for the best result as keep your skin hydrated and moisturizing is the key to get permanently plump lips without surgery
– Step 2: Suck in a mouthful of air and move it inside your mouth between two cheeks for 5 times. This step will help to reduce marionette lines around your mouth
– Step 3: Blow kissed to yourself from 30 seconds to one minute in order to make your lips appear slightly swollen
– Step 4: Make a fish face by sucking in the sides of your mouth and work your lips up and down. Repeat this from 10 to 20 times and hold your lips for five seconds each time
– Step 5: Open your mouth as widely as possible and repeat it 3 to 5 times. For each time, hold your mouth for 10 seconds
– Step 6: Close your lips tightly and press them inward. Then, make a popping noise with your mouth. You can do as many times as you want
When attempting to get plumper lips, remember to avoid lip pursuing or tightening the lips as they can make your lips thinner. This is how you can get plump lips naturally with face yoga.

Plump lips surgery
Many people want to have plump lips without surgery. However, some are just not patient enough to wait for the results of their attempt to make lips fuller without surgery. That is why plump lips cosmetic surgery is so popular nowadays.

Lip fillers
If you are looking for how to get big lips with surgery, lip fillers are what you need. Lip fillers are a cosmetic surgery in which the surgeon injects a dermal filler to plump up your lips. There are various substances that are used in the injection and sometimes it is hard to determine whether a substance is good or not. You are not a professional in this field, of course, you cannot distinguish between the genuine and the fake filler. 
Therefore, if you are about to get your lips done, make sure that your surgeon is a reputable and professional one. It is highly recommended that patients should not take plastic surgery to make lips bigger at a spa or a beauty salon because these places involve higher risks of injecting fillers. 

For the first thing, you do not know about how professional this spa or beauty salon is. For the second thing, many spas and beauty salons are using poor-quality fillers in order to save money. Besides, most beauticians are not able to prescribe medication if things go wrong. 
It means that when having your lips done at these kinds of beauty centre, you are exposed yourself to several risks. And obviously, it would be better to have a thinner lip than messed-up lips as a result of failed lips fillers. Worse than that, it is not only about your messed-up lips after injecting fillers, you also have to face health problems related to this surgery. These problems are:
– Asymmetry
– Acne-like skin eruptions
– Damage to skin that results in the wound and scarring
– Infection at the injection site
– Lumps
– Skin rash with itching
– Skin redness
– Blindness
– Skin necrosis (loss of skin due to the disruption of blood flow)
Is there permanent bigger lips surgery? Actually, not like different types of surgeries, lip fillers do not last forever. The HA fillers typically last from 4 to 6 months. The amount of lip fillers injected and the length of time it lasts are different for different individual. If you are thin, it seems that you metabolise faster but they do not last long because the solution can break down quicker.

The normal plump lips surgery often last about 15-20 minutes. You can choose the parts of your lip to inject fillers or just inject one lip if you want. There is no need to get both lips done. And if you have no idea on what you should do, the doctor will give you useful advises on the amount of solution needed and the parts you should fix so that your lips will be most suitable to your facial features.
Bigger lips surgery will be just a little bit sore. The doctor will apply numbing cream before injecting lip fillers. And according to many patients, it just likes someone is pinching your lip. If you get your lips done with aright doctor, you do not feel any different from your normal lips.

When will you see the results? Lip fillers are how to make lips plump and smooth immediately. There will be a degree of swelling but normally, your lips will be settled after 1 day.
In case you do not like your lip fillers, don't worry because they are not a permanent fixture. The filler is a naturally occurring substance, it will be broken down after a period. As we have mentioned, lip fillers often last about 4 to 6 months. After this period, if you do not want your lips to be big and plum, you can stop injecting lip fillers. However, in case you want to get them gone immediately, the doctor can help. There is another injection that will dissolve the lip fillers within 5 minutes. You also do not see its effects as this injection will reverse the effects straight away.

Lip fillers may cost from £300 to £1500. This cost depends greatly on where you live and what you are having done.
Celebrity lips
There is a long list of celebrities who have taken lip fillers. As a famous person, all of them want to be the most attractive and undergoing lip fillers is what they choose. Celebrities who had their lips done include: Kylie Jenner, Anna Faris, Heidi Montag, Angelina Jolie, Lindsay Lohan, Megan Fox, Julia Roberts, Britney Spears, Courteney Cox, Farrah Abraham, Ariana Grande, Christina Aguilera, Madelaine Petsch, Lala Kent, Khloe Kardashian, Ellie Goulding, Jennifer Hudson, Snooki,…
Plump lips have always been what many women are seeking for. There are different ways to get attractive lips. You can get plump lips naturally through plump lips recipe or through plump lips face yoga. Besides, if you want to get desired lips immediately, plump lips cosmetic surgery is a good idea.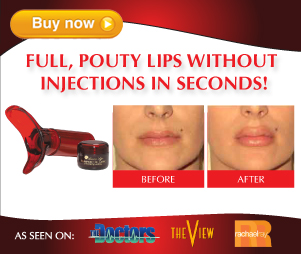 Related